First America Homes Celebrates Grand Opening of Kickapoo Preserve in Northwest Houston
Thirty-six oversized ¾ acre homesites to be offered in first phase of development
First America Homes celebrated the grand opening of its newest community, Kickapoo Preserve, with a ribbon cutting ceremony attended by local public officials and real estate professionals. The homebuilding company announced the initial offering of 36 oversized, ¾-acre homesites. Homes will be priced from the $240s - $350s and range in size from 1,845 to 3,392 square feet. Kickapoo Preserve is conveniently located near FM 1488 and FM 2920, with close proximity to the Grand Parkway (99). The second and third phases of the community will feature an additional 275 homesites.
There is a strong demand for superior quality new homes in this easily accessible area of Houston. "We are extremely excited. The whole concept came about several years ago as we saw an underserved market of people who didn't' want to by a ½ million dollar home but wanted to have a little more space, said Dave Barnhart, Division President of First America Homes, an affiliate of The Signorelli Company. This is the fourth neighborhood that we are bringing this product line into. We think this is something a lot of buyers in Cypress and the surrounding areas will be eager to learn about. People want an affordable new home that's not 10 feet from their neighbor."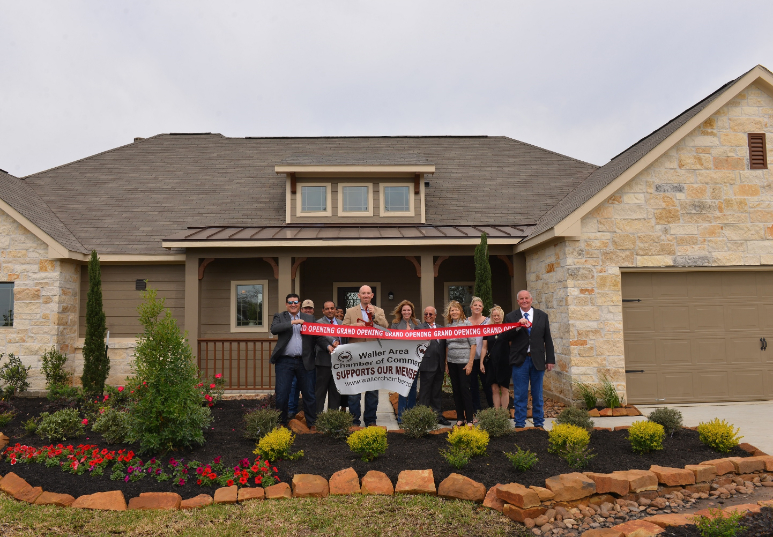 Ribbon Cutting of First America Homes new model in Kickapoo Preserve community in Waller, TX on Tuesday, February 28th, 2017. Representatives include: Dave Barnhart, Division President of First America Homes; Trey Duhon, Waller County Judge; Carole Nemec, Vice President of Waller Chamber of Commerce; Russell Klecka, Waller County Commissioner Precinct 2; Rajan Shamdasani, Christine Clark and Sunny Pahl, Developer of Kickapoo Preserve and local Real Estate Professionals.
Oversized lots and nearby amenities make Kickapoo Preserve a great choice for those seeking an affordable new home with all the finest features, in a convenient suburban community with a low tax rate.
Carole Nemec, Vice President of the Waller Chamber said, "We are so happy that First America Homes chose to build in Waller. As we all know, growth is coming this way. We have a builder here who is building homes to support our county and our area. Last year Waller ISD passed a bond. We are building schools because we see the growth coming. Downtown Waller is preparing to have a revitalization. Our chamber is so excited to help any of you. This is special out here."
"Many new industrial jobs have been added to the area, like those at the nearby Daikin Texas Technology Park, are driving a demand for housing, and we are glad to see First America Homes responding with beautiful new homes in Kickapoo Preserve," said John Isom, Director, City of Waller Economic Development Corp.
"We've been working on strategic planning for two years. We have a mobility plan underway. Waller County is now the place to be. According to the Houston Chronicle said Waller County is the fastest growing county in the state of Texas and the 6th in the
country. That's really amazing!" said County Judge Trey Duhon. "We've always been this quiet sleepy little county and that has changed. We know there is going to be growth and we want that growth to be positive. We want it to be nice. This development is
representative of that higher quality."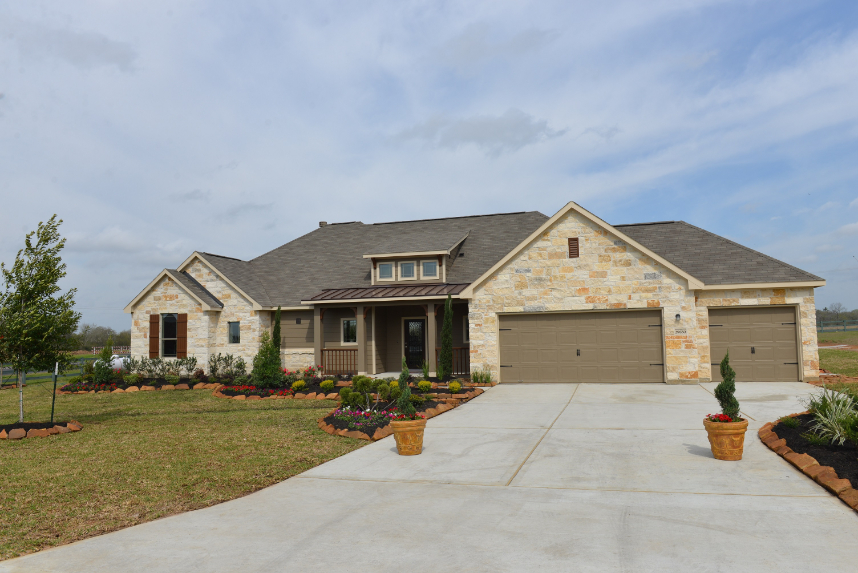 For more information about Kickapoo Preserve, visit http://www.firstamericahomes.com/kickapoo-preserve.
About First America Homes:
A private Houston-based homebuilder, an affiliate of The Signorelli Company, recognized as a leader in Texas and Oklahoma, and is one of the largest privately held development companies in the State of Texas. Together with The Signorelli Company, we have over 75 years of combined experience building homes for thousands of families who have experienced the American Dream of owning a new home. First America Homes builds homes with a focus on service, quality and integrity, while keeping in mind what's most important to you, the homebuyer. The financial strength and experience of our company means peace of mind for you and your family, both during and after the building process and for years to come. For more information, visit
www.FirstAmericaHomes.com.
Archives