First America Homes donates to Veterans at Camp Hope
For the second year in a row, First America Homes is proud to support the PTSD Foundation of America by making a donation to Camp Hope.
First America Homes ran a four-week promotion on their Facebook page where for every like, share or additional like on their page that they received, they increased their donation amount to Camp Hope. The promotion was so successful, that they were able to make a $10,000 donation to Veterans battling combat-related PTSD.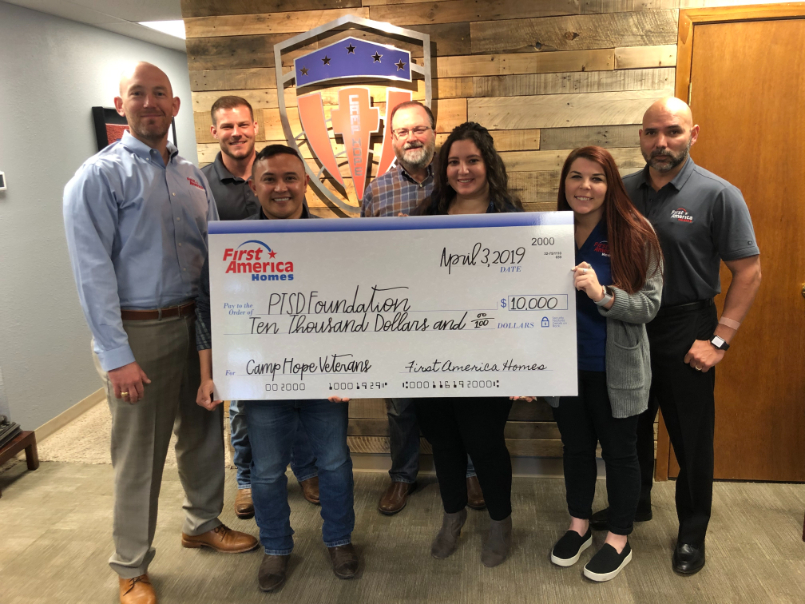 "For everything that these Veterans do for us, and this country, we are absolutely going to be there for them in their time of struggling," says First America Homes' Division President, Dave Barnhart.
Camp Hope provides interim housing for Wounded Warriors, veterans and their families suffering from combat-related PTSD in a caring and positive environment. In addition to temporary housing, Camp Hope offers a 90+ day PTSD recovery program in which residents: attend group lessons and support sessions with other combat veterans, conduct individual mentoring sessions with certified trauma mentors, participate in off-site small group interaction activities (fishing, hiking, local activities and events), and get involved with local churches, businesses and volunteer organizations to assist in their personal healing and educating the community on the invisible wounds of war.
For more information, or to make a donation visit: www.firstamericahomes.com/camp-hope
Archives